Well I had best start at the beginning. My name is Tom, I was born on the 8th of October sometime in the 80's in Doncaster Royal Infirmary on a cold October day…… Only joking lets start properly.
So as I said before my name's Tom that's a photo of me. I have lived and worked in Doncaster all my life. I have enjoyed all aspects of computing since I was little and had the BBC computer. My first memory of computing is of having to select the correct colour of the sweet from the word written. Since then I have had lots of computers from (Retro) ones loading programs with tapes to cutting edge gaming PC's. I have also had Linux machines and Apple Macs along with tablets with Android & IOS and smart phones as well.
Why did you decide to run your own Computer Repair Business?
I've worked in jobs that require customer services and a lot of the time found the service lacking. I always wanted to repair computers and when I left my last job as a level 2 repair technician I decided that I wanted to set up my business with the main focus being customer service.
What are you known for professionally?
Being patient understanding and caring. I have some older customers who always say "you always keep me informed in a simple way what is going on and make sure I understand before you carry out the work".
It's also nice to have a nice clean computer so with all work I do I always clean the laptop with the appropriate cleaners so it comes back shiny and clean. It doesn't take a lot but t makes a big difference
What's the one problem you are best at solving for your customers? What do your ideal customers say about you?
 You can read in their own words what they say about me on my reviews page. In my words though I try to  do the best work I can. I try to work to my customers needs not what I think they need, making sure I ask questions before I start work and if I need to while doing work, not just doing what I think is right.
What are you most passionate about professionally? What most excites you about your work?
I love virus removals and speeding up peoples computers. I just can't seem to get enough of those jobs. People get their computers back and say I thought it was gone it was so slow and had popups everywhere and now it runs like new. 
I enjoy helping people it makes me genuinely happy to see relief or joy when people get their computers back in good working order.
What are you passionate about personally? What do you really enjoy? What can't you stop talking about?
I love Japanese anime, this is animation made in Japan often for for adults. My favourite series is Sword Art Online also known as SAO. Other than that I enjoy spending time with Helen my fiancée we get married in 2017, we like to go exploring especially in the UK. I also love our two cats . Recently I have taken up Aikido a martial art for both physical and mental health.
How long have you been doing what you do?
Computer repairs? Well since I was at college learning really. As a job a few years now, where I learnt a huge amount not only about repairs but running a business, and as my business even longer.  
Any Charities you love, & why?
Aurora well being centres. The reason I love this charity is because they give free beauty and therapy treatments to people who have been diagnosed with cancer in the Doncaster area. It's one of the charities I support.
Any awards or medals, or even medallions?
Best made survival shelter!!! I won that in reception at school. what other awards are needed haha.
in real terms we have received awards from 3 best rated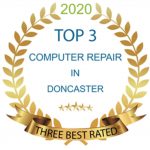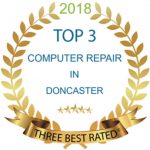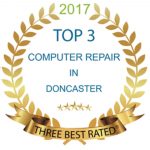 How do you want to be remembered?
I'd like to be remembered fondly as a kind, caring person who was loved and respected.
Introduction To What We Do Video